Unique, out of the box and unbelievable DIY Christmas tree ideas you should look at now!
Unconventional and beautiful DIY Christmas trees : ideas to create unique Christmas decorations, perfect for any space in your home!
Everyone loves Christmas trees, however, a tree can take up a lot of space! So what if you have limited space? What if you want 10 trees just because you are so exuberant?
Here's a collection of jaw-dropping and super inspiring ideas to make your Christmas "Trees" with unexpected things from oil funnels to tomato cages, reclaimed wood to the PVC pipe. They can be made in many sizes and would fit in a variety of spaces! By the end, you will be so happy to know that – Yes, one can have 10 Christmas trees even in a tiny apartment!
1. Tomato Cage Christmas trees
Two entirely different trees, both made from… guess what, tomato cages! The one one the left made by 17Apart is so simple and chic, just add string lights! The one on the right made from Diy Show Off  is adorned with lighted garlands, how pretty!
2. Ladder Christmas tree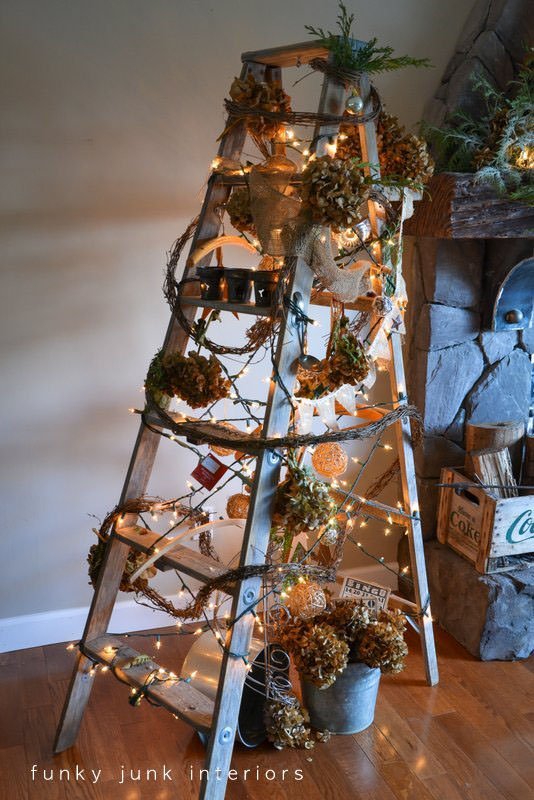 Rustic and spontaneous, this charming ladder tree by the incredible Donna at Funky Junk Interiors is re-purposing at its finest!
3. Stacked PVC pipes and books
How fun would it be to decorate this PVC pipe Christmas tree! If cutting pvc pipes sounds intimidating, gather some water bottles of various sizes, or paper mailing tubes and perhaps even paint them! From Martha Stewart
A stacked book Christmas tree that needs no storage! See how Family Sponge created this fantastic tree in almost no time.